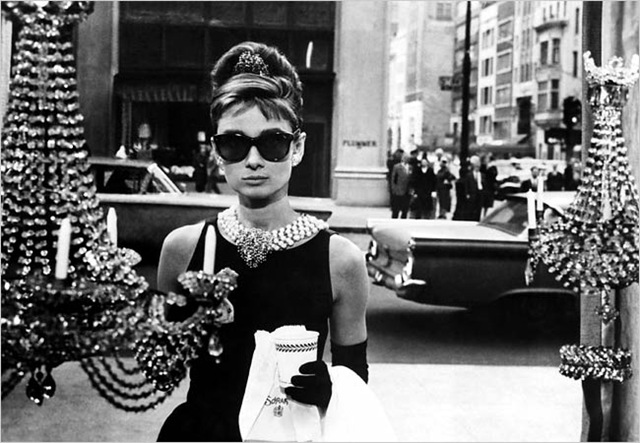 Let's not kid ourselves - I don't think Audrey ate many croissants and full-fat lattes in her time...
Is there no end to the things that Breakfast at Tiffany's can teach us about life?

Apart from the fact that quaffing champagne before breakfast is perfectly decent and normal, and that you must never, ever give your heart to a wild thing, B at T also has important things to say about free-floating anxiety and panic.

Observe...

Holly 'You know those days when you get the mean reds?
Paul 'The mean reds, you mean like the blues?'
Holly 'No, the blues are because you're getting fat and maybe it's been raining too long, you're just sad, that's all. The mean reds are horrible. Suddenly you're afraid and you don't know what you're afraid of.'

Holly explains that for her, a trip to Tiffany's is the only thing that can shake off the mighty mean reds.

'

Well, when I get it the only thing that does any good is to jump in a cab and go to Tiffany's. Calms me down right away. The quietness and the proud look of it; nothing very bad could happen to you there. If I could find a real-life place that'd make me feel like Tiffany's, then - then I'd buy some furniture and give the cat a name

!'



Needless to say, Truman Capote suffered from severe anxiety (no-one who hasn't experienced it could have written that), and went to some pretty extreme measures to keep it in check.

Sadly, this isn't late-50s New York (and for me, it's not even 21st century New York, and I feel like heading to Harrods in the rain just wouldn't have the same effect), so what I want to know is - when you get a bad bout of the mean reds, what's your very own real-life Tiffany's?
Oh, go on then, I'll have a chocolate covered danish. Seeing as how you twisted my arm.