'Is that a raven? An OMEN OF MY IMPENDING DEATH? Oh my God...'
I hate to get sick. I fear getting sick. And I fear
being
sick. And I'm really not sure why
.
I mean, I know it's unpleasant and all that, and noone WANTS to be sick, but I start to get really depressed and twitchy if I feel a virus or something coming on, and if, godforbid, it develops into something proper, I get hit with a massive wave of anxiety that sits on the sickness' shoulder like a nasty vulture.
If I have a bogstandard cold, a little nervous voice inside me says 'your nose is so blocked up that if your mouth were to somehow get smothered, then you would die'. Which is patently absurd, but the little voice is persistent.
Or if I'm about to be sick, the evil bugger comes back again and says 'what if you try to breathe and can't, and end up choking on your own vomit? Then you'll diiiiie.' And 98% of me knows it's ridiculous, but the 2% is weak and confused and starts to freak out.
All of my major panic breakdowns have happened when I've been ill. I've either been in pain, or had a gastritis, or had a bad flu or something. And my anxiety has built and built upon the illness and exploded all over the shop in a spleurgh of panic and freakout. There's something in it - there's a connection - but I don't know what it is. I want to pay some super-duper therapist a huge lump sum to just wash out my brain and investigate all the dark corners, and flush out whatever it is that's lurking there.
And do you know what? There's nothing I would hate more, than to be the kind of person who freaks out about getting ill. Like Melman from Madagascar crossed with the sickly bitter boy from The Secret Garden who used to screech about the spores. Noone likes that person, and that person doesn't like themselves. I want to be the person who laughs and says 'Oh that? Pah, just a smattering of smallpox. No worries at all. Few days of antibiotics and I'll be right as rain. And in the meantime I'll watch a ton of Columbo!
'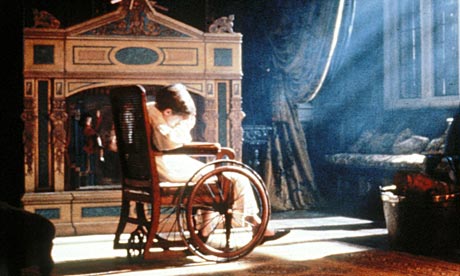 '

I'm allergic to vitamin D and spores and breeze and human touch and my Daddy doesn't love me but the love of a young girl and a special garden will liberate us all (and my legs will start to work again, phew)...'
Well, to be accurate, I am the kind of person who SAYS that, but it's not remotely what I'm thinking. What I'm actually thinking is 'Oh my God, I'm getting sick. I hate getting sick. What's wrong with me? Is it CANCER? Is it chronic fatigue? Will I have to be fed on a drip for the rest of my life? Will my boyfriend have to be my carer? Will I be able to go to that party? Will it ruin my holiday? Can I take these pills with these pills or will I do a Heath Ledger? Will it make my panic attacks come back? Will I have to take time off work? Will they hate me and not believe me? PLEASE GOD don't let me get sick' etc etc etc etc
Anyone else? Tumbleweed...
Replaces misplaced organs?